| | | |
| --- | --- | --- |
| Sunday | Sunday Morning Service | 10 AM |
| Tuesday | Timothy Youth Fellowship | 7:30 PM |
| Wednesday | Wednesday Night Bible Study | 7:30 PM |
| Friday | Milk & Manna Fellowship | 7:30 PM |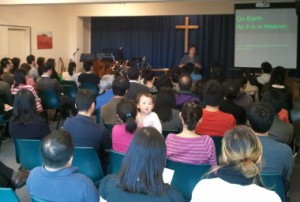 Welcome to the English Congregation of the Canberra Chinese Christian Church. We are so pleased that you stopped by to look at our website and learn more about us.
As a church, we emphasise three core values of the Kingdom of God:
1. The communion between ourselves and God in spiritual discipleship.
2. The community of believers for the building up of our faith and care for one another.
3. The mission of God to our neighbour, both near and far.
We would like to invite you to find out more and experience any of our fellowships and ministries of this congregation. We would also like to extend our support and care, if there is any way in which we can be helpful to you.
As you browse through our website, you will find meeting times, fellowship news, calendar of events, sermons, and many other things of interest.
Feel free to contact us for more specific information if needed.
Because of Jesus,
Pastor Diana Williams